Health & Safety
COVID-19
Updated May 15, 2022
Campers resoundingly shared that last summer was an absolute success and amazing experience—even with every layer of COVID best practice in place that we could implement. As such, we are confident that no matter the practices in place camp will be a meaningful and worthwhile experience for your kids.
As of writing this, the COVID-19 community level for the majority of Louisiana is classified as low. We will continue to develop and re-assess health and safety plans, consistent with best practices as defined by the CDC, the American Camping Association, and in conversation with our colleagues in camping ministry across the country.
We will incorporate basic practices for the general health and well-being of the camp community, not only in regards to COVID, such as hand washing, doing as much as we can outdoors, and symptom screening.
All campers are encouraged to be vaccinated and up-to-date as able, though no requirement for such will be in place.
Unvaccinated campers must provide proof at check in of a negative COVID-19 antigen test taken no more than 5 days before arriving at camp.
Should the COVID-19 community level change to medium or high, we will be ready to incorporate increasing layers of protective measures as appropriate, such as distancing, cohorting, and masking indoors.
It is important that all campers experiencing symptoms of COVID-19 or other illness not attend camp when they have symptoms so that they don't spread illness to the camp community.
At this time, we do not plan to perform a mid-session screening, though this strategy may be implemented if the community level changes. We will have the capability to perform onsite COVID diagnostic testing of symptomatic individuals during their time at camp.
Additionally we will institute:
Reduced session capacity. While we hope to open more spaces per session than in 2021, waiting lists will begin at 50 participants per session. We hope to open additional spaces toward our full capacity in the spring of 2022, based on health and safety standards and staff-to-camper ratios.
Extension of 2021's flexible refund policy. All deposits will be fully refundable up to one month from the start of your session. Within one month of a session, $50 deposits will be held with exceptions made for COVID symptoms or exposure. If your camper exhibits symptoms of illness, or is exposed to someone with COVID-19 within two weeks of their session start, your deposit will be refunded.
Staff Training
Safety starts first and foremost with our Permanent Staff counselors. The Permanent Staff members are at least 18 years old, have completed a year out of high school, and undergo thorough background and reference checks prior to employment. Each year, staff are carefully selected with regard to maturity, sensitivity, and integrity as role models. Many are former Camp Hardtner campers themselves, so they know what it's like to go to camp for the first time. Over a week of staff training is conducted at the beginning of the summer which includes training on policies, procedures, and emergency protocols as well as First Aid & CPR certification.
Medical Staff
Each session is staffed by one or more licensed, on-site medical volunteers responsible for the administration of routine medications and the treatment of minor illnesses and injuries.
Nurse Call
Affectionately known as "Nurse Call," after each meal and before bed is time for regularly scheduled visits with the medical staff at the infirmary. This is when scheduled medications are administered and when non-emergency medical needs are addressed. The infirmary is stocked with many over the counter medications, bandages, and other first aid supplies. In case further medical attention is necessary, Camp Hardtner works closely with local clinics and hospitals to provide the best care possible.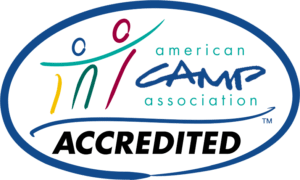 Camp Hardtner is an American Camp Association (ACA) accredited camp, evaluated against nearly 300 standards to earn accreditation status.