Camp Hardtner is an Episcopal Christian summer camp that holds a variety of sessions for campers entering 2nd grade through recently graduated 12th graders, including a session for campers age 18 and up with special needs.
Hiring Process
1) Submit an application.
Applications will be accepted through the online system until all positions are filled.
2) Schedule an interview.
First time applicants will be contacted to have an informal conversation about a day in the life of a staff member–and to set up an interview with the director. This will give a fuller idea of what to expect from working at camp and best prepare you for the official interview.
3) Get hired.
Only the best of the best will be offered a spot on the staff!
4) Attend Zooms before camp starts.
The staff will meet by Zoom as the summer approaches in order to get ready for arriving at camp.
Employment Dates
Employment will run from May 22 to August 4, 2023.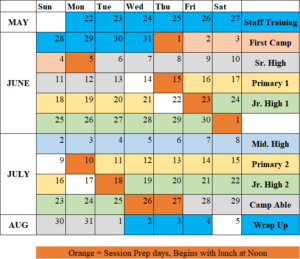 Staff receive time off between each session as follows:
May 31 – June 1:   12pm WED to 9am THU
June 4-5:   12pm SUN to 12pm MON
June 13-15:   12pm TUE – 12pm THU
June 21-23:   12pm WED to 12pm FRI
June 30 – July 1:   12pm FRI to 12pm SAT
July 8-10:   12pm SAT to 12pm MON
July 16-18:   12pm SUN to 12pm TUE
July 25-26:   12pm TUE to 12pm WED
Aug 1-2:   12pm TUE to 10am WED
Compensation
Paid Positions:     $ 2,500 + room and board for duration of employment
Volunteer Positions:     Room and board for duration of service
Paid Internships
Camp Hardtner welcomes applicants who seek to use their job at Camp Hardtner as an internship to fulfill an academic requirement or a vocational goal. The Camp Hardtner staff works with the summer staff member and college faculty to meet their needs, including working to set goals, learning outcomes, paperwork, supervising, etc. After you submit your application, please inform the Director about this possibility.
Paid Positions Available