Job Summary
Working closely with the Director, the Healthcare staff will oversee the health needs for children ranging from ages 7 to 18 and will live onsite for the summer term or single session. 
Accountability
The Healthcare staff reports directly to the Director
Desired Specific Qualifications
Applicant must be currently licensed to practice in the State of Louisiana and hold a RN, PA, APRN, or MD
Applicant experience or a background in pediatrics, school health, home health, or public health nursing is desired but not required
We will gladly consider new grads who have passed the boards
Applicant must be able to execute nursing duties in a varied, indoor-outdoor environment, including negotiating uneven outdoor ground and some medium lifting (25 lbs).
Applicant must complete a background check and Sexual Abuse Awareness and Prevention training.
Compensation 
Full Summer Employment- $6000, plus room and board
Single Session Employment-  $100/day or free camper session, plus room and board
Performance Objectives (Abbreviated)
Reviewing camper health histories

Communicating health needs of campers to administration and counselors 

Distribution of prescription and over the counter medication

Providing first aid for minor injuries and illnesses

Maintaining accurate health logs

Speaking with parents and counselors as needed

24 hour on-site coverage 7 days a week with relief time
Employment Dates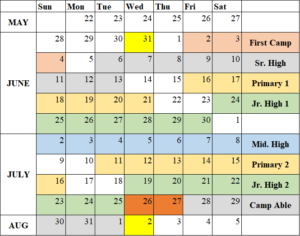 Full Summer Employment– May 31 – August 2, 2023
A full summer nurse receives time off between sessions as follows:
June 4-6:   12pm SUN to 1:30pm TUE
June 13-16:   12pm TUE – 1:30pm FRI
June 21-24:   12pm WED to 1:30pm SAT
June 30 – July 2:   12pm FRI to 1:30pm SUN
July 8-11:   12pm SAT to 1:30pm TUE
July 16-19:   12pm SUN to 1:30pm WED
July 25-26:   12pm TUE to 12pm WED
Single Session Employment Options
All Single Session employment dates arrive and depart at noon
June 2-4
June 6-13
June 16-21
June 24-30
July 2-8
July 11-16
July 19-25
July 26-August 1