Announcing Summer Camp 2021

We are so excited to announce our schedule for the 2021 summer camp program!
Summer camp is more important than it has ever been. Our kids need time with their peers, away from screens, out of the house, in nature–away from Zoom! Time and space to decompress from the heaviness of this year.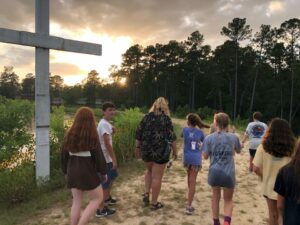 Camp Hardtner has been doing exactly that for 74 years. Since 1948 it has been a space for youth and adolescents to experience relationship, community, and belonging. To build self-esteem and identity outside of their usual patterns and habits. All built upon the foundation that God's love surrounds us and transforms our lives.
This year we are re-doubling our efforts to provide adaptive ways of forming meaningful relationships and BEST WEEK OF THE YEAR experiences–even when we must be physically distanced and practice mitigation measures.
COVID-19 and Camp
We will incorporate guidelines, recommendations, and best practices regarding the prevention and mitigation of COVID-19 at camp from the State of Louisiana, the CDC, and the American Camp Association. We are making plans, opening registration, and moving forward with summer preparations in anticipation of state guidelines allowing for the opening of sleepaway camps.
A successful summer will depend on our families partnering with us to prevent and mitigate the spread of COVID-19. Though we cannot guarantee zero occurrence of COVID-19, we have the best chance working together to follow the guidelines and recommendations. Most families are so excited, supportive, and ready to get back to Camp Hardtner that they have already pledged to do what it takes. Thank you!
About the Schedule
Given the protocols that we will have in place we will not be able to offer First Camp (young campers and parents/guardians) and Camp Able (campers 9+ with special needs).
We will hold two sessions each of Primary and Jr. High. Each is two weeks apart leaving the possibility to quarantine and return for a second session.
Making Summer Plans
As you make your family plans for summer and balance camp in your schedule, please ensure that you factor in:
Campers must self-quarantine for 14 days before arrival to camp

There should be no physical contact with anyone outside of the household unless absolutely necessary. We ask that ALL household members limit exposure to non-immediate family members, wear a face mask around non-immediate family members, avoid large crowds/gatherings, and limit unnecessary travel.

Campers must provide proof of a negative PCR COVID-19 test from within 2-5 days before arrival to camp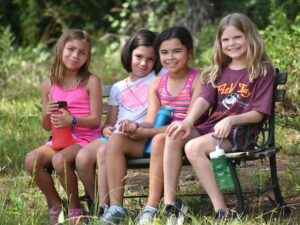 Full Refund
We understand how much campers love camp and we want to share the Camp Hardtner experience with them, but it is critical that anyone who exhibits symptoms or tests positive stays home for the safety of the entire Camp Hardtner community. Please know that this year if you cancel your registration for camp for any reason and within any time frame we will issue a 100% refund.
More Information
We will continue to provide more information about COVID-19 protocols as the summer approaches, including holding informational Zooms.
Registration will open in March through our online system.
For more information about the different sessions and about Camp Hardtner, visit our website today.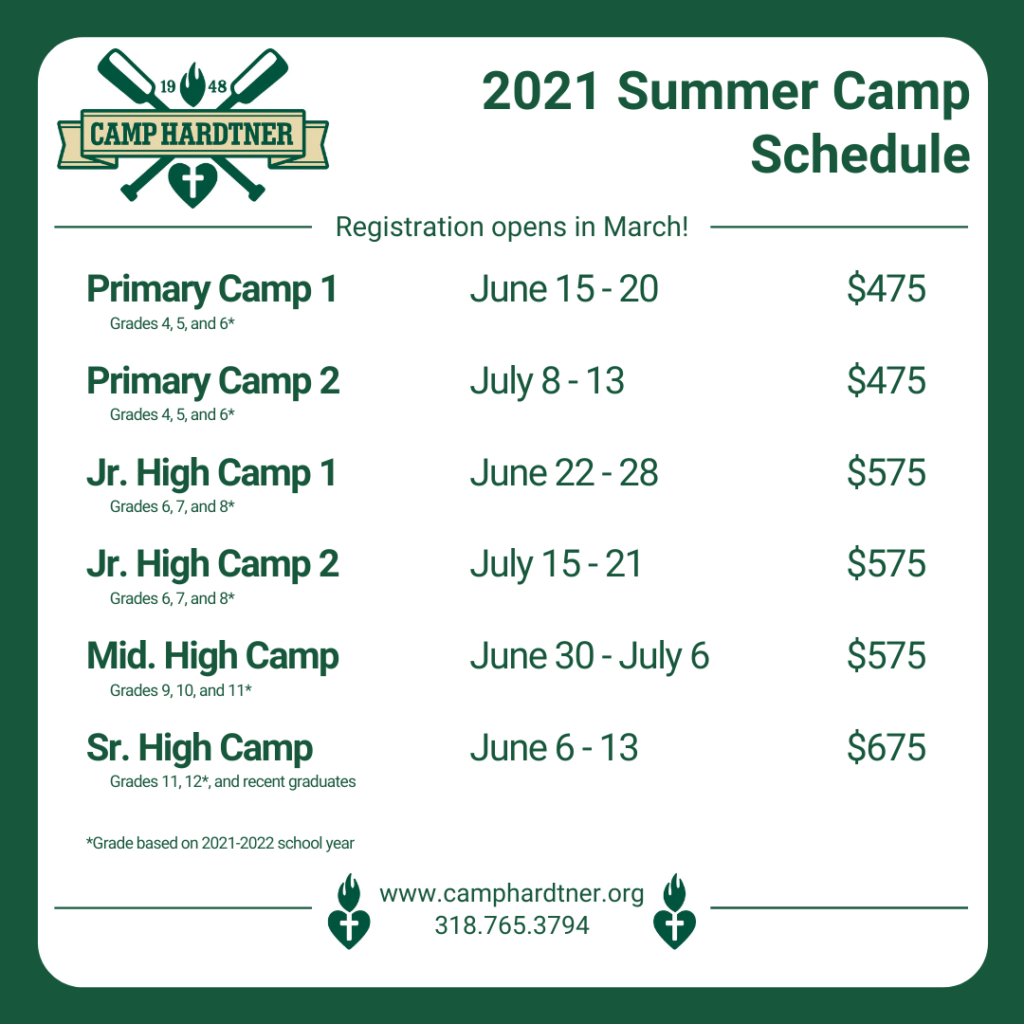 Comments
comments