We are excited to announce an addition to our staff here in the woods!
Blair Johnson is joining us as Camp Hardtner intern. Many of you will recognize her from this summer when she was a counselor.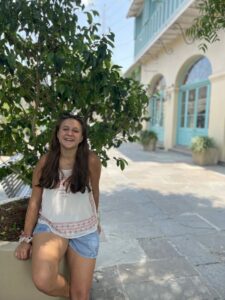 Blair is from Oklahoma, having graduated from the University of Central Oklahoma in 2019, where she spent as much time as she could outdoors–sailing her freshman year and rowing sophomore through senior year. Blair grew up going to, then working at St. Crispin's, the Episcopal summer camp in Oklahoma.
Her role at Camp Hardtner will be to learn the behind-the-scenes while supporting existing staff. She will help revitalize current camp features and develop new ideas. A few projects on deck include: mapping the trails, a social media revamp, and preparing for summer 2022.
To let you get to know Blair a bit better we did a brief interview:
Favorite camp memory?
I have been going to camp since I was four, so there's too too many to pick a favorite! Some of my favorite moments, though, are when a camper makes a hard earned goal in a close game, and also getting to watch lifelong friendships being made in a week.
Hardest thing you did as a camp counselor?
I helped teach a lifeguarding course for a camp session. Four-plus hours everyday in a pool with fake drowning, hot sun, and dehydration! I'd do it again in a heartbeat though. It was a great bunch of campers and we got to tent camp by the lake that week!
Favorite camp food?
Growing up, my favorite was called potato chip casserole. This summer, though, Chef Neva made focaccia bread one time and it was lovely. I'm also a sucker for popsicles.
What are you most excited about as the new Camp Hardtner intern?
Learning more about Camp and the new ways I can help build the community I fell in love with! When you transition from camper to counselor you learn so much about the effort that goes into making camp such an incredibly special place. Transitioning from counselor to intern offers the ability to delve that much deeper into making camp camp.
Welcome her to the team with an email or a DM on Facebook, Instagram, or Twitter!
As always – Peace, love, and milk and cookies!
Comments
comments