Hello From Your 2018 Head Counselor, Bailey Schehr
To find out you have the opportunity to spend the summer at Camp Hardtner is always exciting news, but to find out you were chosen to be Head Counselor is really the cherry on the cake!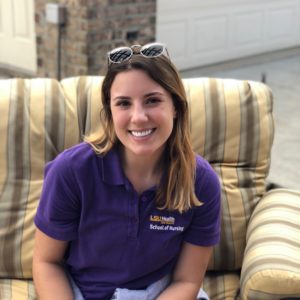 I consider Camp Hardtner heaven on Earth. Camp is a place where I have made genuine, life-long friendships, formed a personal relationship with Christ, and learned so much about myself each time I've crossed the gates.
This is why I wanted to be Head Counselor. I hope to give our campers this unique experience with the help of the rest of the Permanent Staff.
I am a Kenner native and have been an active member of St. Augustine's Episcopal Church for many years. I'm currently in my second year of nursing school at LSUHNO. When I'm not slammed with studying I enjoy cheering on the Saints (still bitter) and trying new restaurants in the city with friends. I'm not too sure where I'll want to work after graduation, but hey… camp nurse is always a possibility!
This summer I'm excited to see our campers fall in love with camp the way I have. Seeing campers be themselves and love one another so freely and wholly is the most fulfilling part of the summer. Not to mention, I'm excited to pull some tags and have nightly milk and cookies!
I hope to see many familiar faces and welcome even more new faces. If you're ready to experience Camp Hardtner and make lasting memories then one thing I can guarantee is this summer will be a summer to remember! Be sure to register ASAP before your session fills up!
Catch you in the four square,
Bailey Schehr
2018 Head Counselor
Comments
comments